Year 5's P.E. day is currently Wednesday afternoon, Dance Thursday morning and Accrington Stanley on Friday morning.
Year 5
Welcome to Year 5!
Teacher: Miss S. Pool
Support Staff: Miss L. Southward
A copy of the Year 5 curriculum overview can be downloaded below.
Dance at Hyndburn Academy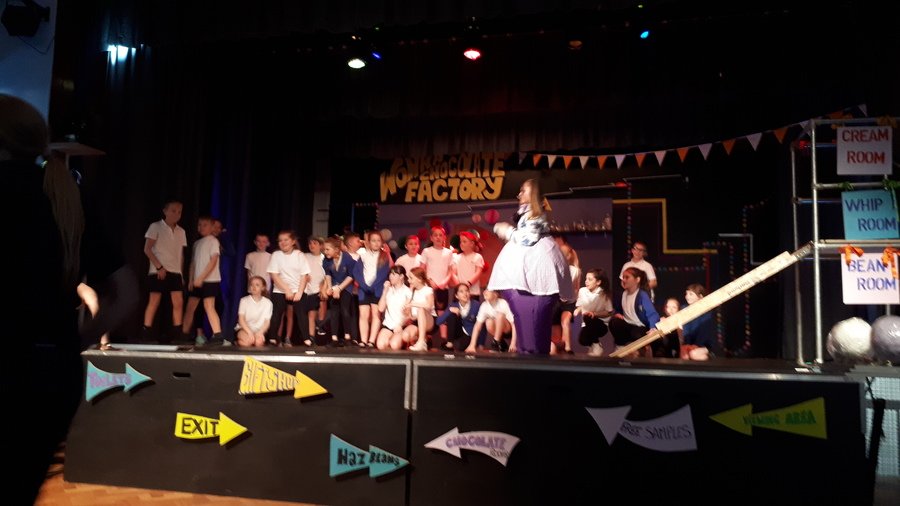 We have been lucky enough to have partnered up with Hyndburn Academy and their wonderful dance teacher, Katie. She has taught us some amazing, fun dance routines over the last term. This then led to us being a part of the school's production of Charlie and the Chocolate Factory; even Year 4 came to watch! All the children had a fantastic time and were inspired to engage in Theatre Studies when they progress to secondary school - Stars in the making!
To Infinity... and Beyond!
Over the last half term, Year 5 have been studying Space! In our Literacy lessons, we have worked towards writing our own Science Fiction novel, based on a family favourite, E.T. To kick start our topic and discover what exactly Science Fiction is, we held a Science Fiction day where children were allowed to bring in any Sci-Fi items they may have at home. The children were absolutely enthralled by the vast array of toys that were brought in and went on to write some incredible toy reviews from our wonderful morning.
In our Creative Curriculum lessons, we have been learning all about the planets in our Solar System. We learnt the names of the planets and even came up with our own mnemonics (did you know - My Vicious Eagle Might've Just Swallowed Uncle Neil). Then we explored the sizes of the planets in relation to each other and their distance away from the sun, using fruit as a visual guide!
Also, we have been trying to recreate the surfaces of the planets in Art. We had an incredible afternoon using pastels, marbelling ink, felt tips and tissue paper to try and mimic the surfaces of different planets! Take a look at our creations, we think they are out of this world!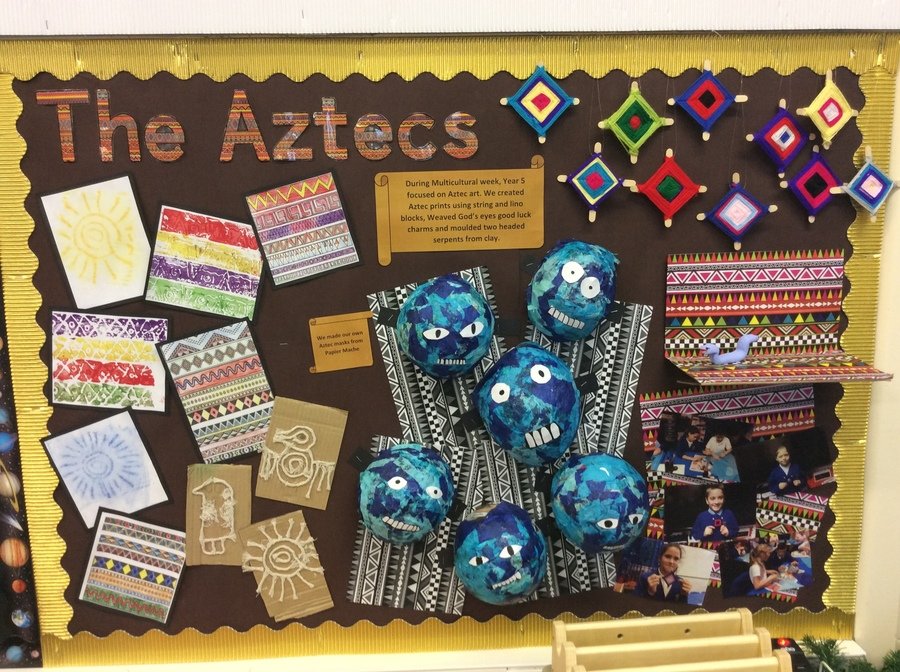 During Multicultural Arts week, Year 5 studied the Aztecs and Mexican culture. The children produced some really amazing work and learnt lots about Aztec culture.
We practised our printing skills with lino, polystyrene and handmade string printing blocks to create interesting Aztec patters, used papier mache and collage to create Aztec masks, used our weaving skills to create God's Eyes and even use clay to create double headed serpents! Our display catches the eye of everyone who enters our classroom.
On Wednesday 7th November, Year 5 were lucky enough to visit Gazegill Farm in Rimington.
This trip was directly linked to our learning about where our food comes from. This forms part of our ' Food, Glorious Food' topic.
We were lead around the farm by Suzanne and Mark who showed us all the workings of a real life farm. We loved looking at the piglets, visiting the milking shed and walking the goats (Unicorn and Star).
Have a look at some of the photos from our fun day out:
C

OOKING SESSIONS WITH THE COUNTRY TRUST
Year 5 have partnered up with the Country Trust to aid our learning about food.
The wonderful Stacey has been coming into school and educating us all about food!
So far, we have cooked Vegetable Lasagne (and got to taste lots of different cheeses) and a Cheese and Onion Pie (where we got to taste a range of different breads as well). The children got to take the food home to cook for their tea.
On Friday 14th November, we ran a Playground Farmers Market to try and make a profit from healthy foods. We researched farmers markets and foods, Fairtrade food and food miles in preparation and managed to raise around £70! Amazing!
Have a look at some of the delicious creations we made: